Oberhasli Peasant Couple Greeting Card / Franz Niklaus Koenig
A Swiss peasant couple in the traditional dress of the region of Oberhasli in the Canton of Berne, based on an 19th century watercolor attributed to the great master of Swiss costume illustration, Franz Niklaus Koenig.
This image is also available in our Zazzle shop as a poster.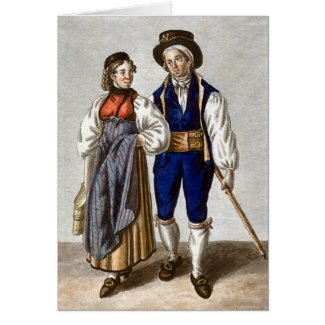 Peasant Couple from Oberhasli, Bern, Switzerland
by
AntiqueImages
Create a note card
with www.zazzle.com
Sort by: date created | popularity
Showing 1 - 2 of 2 products.